Lay Your Burden Down
This remarkably conceived Grammy-winning album–Buck's first new studio release since 2005– features five original songs and complete reinventions of songs made famous by Led Zeppelin (When The Levee Breaks), Bruce Springsteen (Back In Your Arms), Gov't Mule (Lay Your Burden Down), Captain Beefheart (Too Much Time), and JJ Grey & Mofro (The Wrong Side). Guests on the album include Sonny Landreth, Warren Haynes, Steve Berlin, JJ Grey, and Trombone Shorty. This inspired blend of homage and innovation befits a Louisiana legend who brims with youthful energy as he celebrates his band's 30th anniversary.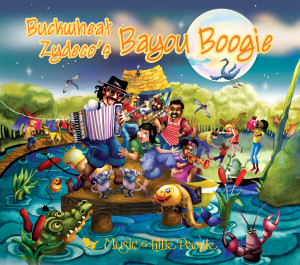 Bayou Boogie
Buckwheat Zydeco's Bayou Boogie is designed to introduce children to a fun time at Buck's place on the bayou, and it kicks into high gear with the joyous "We're Having a Party." Buck and friends get kids into a festive mood with good-time boogie classics like "Barefootin'" and "Walking the Dog," and Buck and guests all put their right feet in on "Hokey Pokey." Buck's own "The Mice Ate My Rice" and "Ripsy Dipsy" prove that nothing stops him from having a good time, even when "Everything Hurts." The celebration ends as happily as it started with "The Party's Over."
Jackpot!
Jackpot! combines soulful original tunes, inspired playing and singing, and the trademark exuberance that's made Buck the world's best-loved zydeco artist, and has earned Buckwheat Zydeco the sobriquet "the world's greatest party band." There's plenty of Buckwheat's signature accordion, and for the first time ever Buck specifically features his soulful mastery of the horizontal keyboard on a fantastic three-song Hammond B3 "Encore featuring Organic Buckwheat." Features 55 minutes of great new music.
Down Home Live!
AT LAST! ALL THE GOOD-TIME BOOGIE OF THE LIVE SHOW ON ONE CD! This is the disc — the quintessential live recording of Buck at his absolute rocking best performing in the heart of Louisiana's Creole Country. If you've seen him play, this record is your long-awaited souvenir. If you've never been to a Buckwheat Zydeco show, now you can hear what crowds all over the world have been raving about for decades. Features 73 minutes of music and fun.
Trouble
People Magazine said: "10 tracks of propulsive, rollicking dance party music… Bottom Line: swamp-boogie joy ride." Amazon.com: "Amazon.com Recommends… One of his finest ever… Have Mercy!" The track "Hard Chargin'" is featured in Adam Sandler's movie "The Water Boy". Smokin' Stuff! See the MUSIC section in this web site for more info, a track listing, and music samples to download.
Choo Choo Boogaloo
Buck's award-winning album for children and families. Many have called this one of the best children's albums ever made. No-fail for kids, and parents will love listening to it, too.
More from Buck's label TOMORROW RECORDINGS
Funky Nation – Lil' Brian and the Zydeco Travelers
One of our favorites, co-produced by Buck himself!
Pullin' – Sean Ardoin & Zydekool
This is Sean's national debut and an amazing breakout zydeco recording. This may be the best reviewed zydeco CD in recent memory. 64 minutes of music. 15 tracks!
Home Brew – Sean Ardoin & Zydekool
Sean's latest Tomorrow Recordings' release showcases the old school flip side of ZydeKool, along with Sean's patented contemporary touch, and demonstrates how Sean Ardoin represents both the rural roots and progressive future of zydeco like no other artist. 51+ minutes of music.