We said goodbye to Buck at a beautiful, moving ceremony on a lovely, warm, crisp day in Lafayette. Our hearts are heavy, but he is at rest now. RIP Stanley Dural, Jr. November 14, 1947 – September 24, 2016.
It is with deep sadness that I have to announce that our great, beloved leader Stanley "Buckwheat" Dural, Jr. has passed away. He died at 1:32 AM Louisiana time, keeping musician's hours right to the bitter end. I am grieving for my best friend and colleague of more than 30 years. But, as this great road warrior once said: "Life is a tour, and it's all about how you decide to get where you're going…I don't want to ignore the bad things in life, but I want to emphasize the good things." Buck made everything and everyone he touched better and happier. RIP my dear friend, my brother.
— Ted Fox
Buckwheat Zydeco is thrilled and honored to perform on "Willie Nelson: The Library of Congress Gershwin Prize for Popular Song," a PBS music special honoring singer-songwriter Willie Nelson's receipt of the Library of Congress Gershwin Prize for Popular Song. The event is taping on November 18, 2015 at the Daughters of the American Revolution (DAR) Constitution Hall in Washington, D.C., and it will premiere Friday, January 15, 2016 at 9 p.m. ET on PBS stations nationwide (check local listings), as part of PBS Arts. The program will also be broadcast at a later date via the American Forces Network to American service men and women and civilians at U.S. Department of Defense locations around the world.
The broadcast will feature performances by Nelson, as well as Buckwheat Zydeco, Edie Brickell, Leon Bridges, Rosanne Cash, Ana Gabriel, Jamey Johnson, Alison Krauss, Raul Malo of The Mavericks, Neil Young, Lukas Nelson & Promise of the Real, and past Gershwin Prize honoree Paul Simon — with Don Was as music director (program subject to change).
The Library of Congress Gershwin Prize for Popular Song is named in honor of the legendary George and Ira Gershwin. This award recognizes the profound and positive effect of popular music on the world's culture. The prize is given annually to a composer or performer whose lifetime contributions exemplify the standard of excellence associated with the Gershwins.
The Gershwin Prize was first awarded to Paul Simon in May 2007 – and Buckwheat Zydeco also performed on that program, dueting with Lyle Lovett. It was then presented to Stevie Wonder in February 2009, Sir Paul McCartney in June 2010, the songwriting team of Burt Bacharach and Hal David in May 2012, Carole King in 2013, and Billy Joel in 2014.
With a career that spans six decades, Nelson's music pushes genre boundaries and his lyrics give voice to America's heartland. He put his imprint forever on country music and introduced it to new audiences by expanding music's avenues in the 1970s to create "outlaw country." He has continually broadened his musical language, crossing into jazz, blues, folk, rock and Latin styles. A guitar virtuoso with a unique voice, Nelson is an artist whose work continues to inspire new musicians of diverse genres.
"Willie Nelson has redrawn the boundaries of country music throughout his storied career," said David Mao, Acting Librarian of Congress. "The sincerity, longevity and diversity of his appeal perfectly reflect the spirit of the Gershwin Prize for Popular Song. Since the Library began presenting the prize, PBS has brought this celebration of creativity directly and more broadly to the American people. We're pleased that people across the country will be able to join in the recognition of this great artist and songwriter."
For more information about "Willie Nelson: The Library of Congress Gershwin Prize for Popular Song," visit www.pbs.org/Gershwin-Prize. An electronic press kit, including downloadable talent photos for promotional use, is available at www.pressroom.pbs.org. To follow "The Library of Congress Gershwin Prize for Popular Song" on Twitter, use hashtag #PBSgershwin.
When it comes to online casinos, Vavada is an exceptional place for those who are looking for excitement and entertainment. Let's get to know this renowned gambling establishment in more detail.
A history of excellence and proven reliability
Vavada was founded in 2017 by a passionate player who was very fond of casino games. The goal was simple: to provide players with a unique and enjoyable gaming experience. Once your Vavada registration , is complete, you will have a personal account. It can be found at the link with your nickname. Over the years, Vavada has not only gained widespread popularity, but has also earned a reputation as a reliable and honest casino.
Extensive selection of gaming options
Vavada offers an impressive and diverse range of games. Whether you're a fan of slot machines or prefer the thrill of live dealer games, Vavada caters to your every preference. With a wide selection of slots from top developers and exciting live games, there's no shortage of entertainment.
Mobile gaming
Recognising the current trend of players using mobile devices, Vavada ensures that games are available on smartphones and tablets. Vavada's official website is optimised for mobile-friendliness, allowing you to enjoy your favourite games without having to download an app. Simply access the site from your mobile device and you're all set.
Generous bonuses and promotions
Vavada generously rewards its players with various bonuses and promotions. New players can look forward to tempting welcome bonuses, while regular customers are offered various promotions, cashback and free spins on slot machines. These bonuses enhance the gameplay and spice up the experience.
Security and fair play
Player safety is a top priority at Vavada. The casino has an international licence, which ensures strict adherence to industry standards and regulations. In addition, Vavada uses a random number generator (RNG) to ensure a fair and unpredictable gaming experience, while state-of-the-art encryption methods protect sensitive information.
24/7 customer support and community involvement
Vavada provides 24/7 customer support, always ready to answer questions and quickly resolve any issues. In addition, the casino supports an active community of players by organising contests and tournaments that allow them to showcase their skills and compete for prizes.
In conclusion
Vavada Casino combines gambling with reliability and security. Whether you like slot machines, card games or roulette, Vavada caters to a variety of gambling preferences. If you are looking for a reliable and exciting online casino, Vavada should be on your radar. Take a risk, dive into the world of excitement and start your gaming adventure with Vavada today!
Buckwheat's World, Buckwheat Zydeco's new YouTube channel, brings a unique inside view of southwest Louisiana's culture through the music, life and times of its star, Stanley "Buckwheat" Dural, Jr. and his band. The channel features short video episodes showcasing Buckwheat Zydeco in new live performances, and entertaining and intimate personal mini-documentaries that tell the story of this unforgettable character.
Buck, band members and friends are presented at work and at play at home and on the road. New episodes are produced and uploaded regularly and notified to subscribers. Buckwheat's World is created by two-time Peabody Award winning filmmakers, Louis Alvarez and Andrew Kolker, who have made a number of classic films about Louisiana, and longtime Buckwheat Zydeco collaborator, Ted Fox.
"YouTube is where people are hearing and seeing music today," said Fox. "Buckwheat Zydeco was the first zydeco band with a major label deal, then the first to start its own label. Now we're the first with our own YouTube channel. We always strive for the best way to reach our fans and make new ones."
Viewers of Buckwheat's World have various viewing options: The episode, Playback, documents a behind-the-scenes look at the creation and debut of a new song. The Dockside Sessions playlist offers exciting live in the studio videos of Buckwheat Zydeco playing their favorites… including performances with pals like C.J. Chenier, Keith Frank, and Roddie Romero.
Buckwheat's World also allows viewers to spend some quality time with a truly unique character, Stanley "Buckwheat" Dural, Jr. – a Grammy winner and Jimmy Fallon guest who grew up picking cotton at age 5. Fans have experienced the joy, enthusiasm, dynamism and decency of Buck's personality on stage, and showing that and telling his story is what Buck and the makers of Buckwheat's World want to unfold through as these mini-documentary episodes.
Если говорить об онлайн-казино, то Vavada – это исключительное место для тех, кто ищет азарта и развлечений. Давайте познакомимся с этим известным игорным заведением более подробно.
История совершенства и проверенная надежность
Компания Vavada была основана в 2017 году страстным игроком, который очень любил игры в казино. Цель была проста: предоставить игрокам уникальный и приятный игровой опыт. После того, как регистрация Вавада завершена, у вас появится личный кабинет. Он находится по ссылке с вашим никнеймом. За прошедшие годы Vavada не только завоевала широкую популярность, но и заслужила репутацию надежного и честного казино.
Обширный выбор игровых возможностей
Vavada предлагает впечатляющий и разнообразный ассортимент игр. Независимо от того, являетесь ли вы поклонником игровых автоматов или предпочитаете захватывающие впечатления от игр с живыми дилерами, Vavada удовлетворит любые ваши предпочтения. Широкий выбор слотов от ведущих разработчиков и увлекательные живые игры – недостатка в развлечениях здесь нет.
Мобильные игры
Признавая современную тенденцию использования игроками мобильных устройств, Vavada обеспечивает доступность игры на смартфонах и планшетах. Официальный сайт Vavada оптимизирован для удобной работы с мобильными устройствами, что позволяет наслаждаться любимыми играми без необходимости скачивать приложение. Просто зайдите на сайт с мобильного устройства, и все готово.
Щедрые бонусы и акции
Vavada щедро вознаграждает своих игроков различными бонусами и акциями. Новые игроки могут рассчитывать на заманчивые приветственные бонусы, а постоянным клиентам предлагаются различные акции, кешбэк и бесплатные вращения на игровых автоматах. Эти бонусы усиливают игровой процесс и придают ему дополнительную остроту.
Безопасность и честная игра
Безопасность игроков в Vavada является одним из главных приоритетов. Казино имеет международную лицензию, что обеспечивает строгое соблюдение отраслевых стандартов и правил. Кроме того, в Vavada используется генератор случайных чисел (ГСЧ), гарантирующий честный и непредсказуемый игровой процесс, а современные методы шифрования защищают конфиденциальную информацию.
Круглосуточная поддержка клиентов и участие в жизни сообщества
Vavada обеспечивает круглосуточную поддержку клиентов, всегда готовых ответить на вопросы и оперативно решить любые проблемы. Кроме того, казино поддерживает активное сообщество игроков, организуя конкурсы и турниры, позволяющие продемонстрировать свои навыки и побороться за призы.
В заключение
Казино Vavada (https://yoga-with-alice.com/) сочетает в себе азартные игры с надежностью и безопасностью. Независимо от того, любите ли вы игровые автоматы, карточные игры или рулетку, Vavada удовлетворит самые разные игровые предпочтения. Если вы ищете надежное и увлекательное онлайн-казино, Vavada должно быть в поле вашего зрения. Рискните, окунитесь в мир азарта и начните свое игровое приключение вместе с Vavada уже сегодня!
Jimmy Fallon, the guy who has dueted with Bruce Springsteen, Neil Young, Eddie Vedder, President Obama and anyone else he wanted, chose Buckwheat Zydeco to kick off Friday's final Late Night with Jimmy Fallon show. Fallon takes over "The Tonight Show" from Jay Leno on February 17.
Playing "On a Night Like This" from Buckwheat Zydeco's first Island Records album of the same name, super fan Jimmy Fallon performed alongside Buckwheat Zydeco and The Roots. The show opened "cold" without any announcement except a tight close-up of "Buckwheat" spelled out in jeweled letters on Stanley "Buckwheat" Dural's accordion. Buckwheat and Jimmy traded vocals on Buckwheat Zydeco's cover of this little known Bob Dylan tune. Jimmy rocked out on a red guitar, and the two played out the song with a rousing instrumental throw down.
Jimmy said he wanted Buckwheat Zydeco's appearance on his last show to be a surprise. He introduced and thanked Buckwheat from his desk after the performance, and displayed the band's latest, Grammy-winning Alligator Records album, "Lay Your Burden Down".
"Man we had a blast," said Dural. "It was such an honor to be a part of this. It's history! And Jimmy and The Roots couldn't have been nicer. It felt like our home away from home."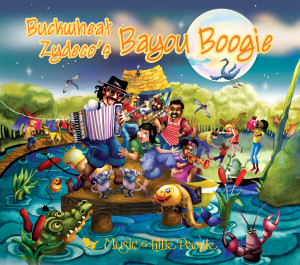 BUCKWHEAT ZYDECO'S BAYOU BOOGIE Buck's back with his first new kids' album in 15 years! Order now from Amazon.com Buckwheat Zydeco's Bayou Boogie is out now on the Music For Little People label. This family dance party collection from the bayous of Southwest Louisiana also features children's music superstars Laurie Berkner and Dan Zanes. Buckwheat Zydeco's Bayou Boogie is the long-awaited follow up to Buck's 1994 beloved children's album, Choo Choo Boogaloo. That recording won an Oppenheim Toy Portfolio Platinum Award and received a Parents' Choice "Approval" rating as well as 5 Stars (Top rating) on Amazon.com, Barnes & Noble.com, and Epinions.com. Offbeat says: "Like it's predecessor, Bayou Boogie is a joyous blast of zydeco, funk and R&B that teaches kids about the heritage and instruments of zydeco while inspiring the whole family to get up and dance." Just as Buck is so well known for in his legendary live shows: smoking accordion, rocking Hammond B3 organ, rollicking rub board and sizzling guitar licks join together on this recording to create a musical gumbo of Creole culture that can almost be smelled and tasted. Buck guides children and parents through a rollicking mix of some of the most family-friendly classic rock 'n' roll tunes and great original songs performed in a Zydeco style as only Buckwheat Zydeco can. The result is a rich tribute to this unique melting pot of American culture. Buckwheat Zydeco's Bayou Boogie is designed to introduce children to a fun time at Buck's place on the bayou, and it kicks into high gear with the joyous "We're Having a Party." Buck and friends get kids into a festive mood with good-time boogie classics like "Barefootin'" and "Walking the Dog," and Buck and guests all put their right feet in on "Hokey Pokey." Buck's own "The Mice Ate My Rice" and "Ripsy Dipsy" prove that nothing stops him from having a good time, even when "Everything Hurts." Vavada casino – entrance to the official site. Vavada online casino is a virtual gambling establishment, you can enter the site through Vavada's working mirror. Play and win at Vavada! The celebration ends as happily as it started with "The Party's Over." "Children are our future and our treasure," says Buck. "Nothing makes me happier than seeing kids have a good time, and I'm so proud to be able to introduce them to my musical roots and get them boogying to the sounds of Zydeco music."